We've achieved numerous ISO qualifications, giving you peace of mind that you are dealing with a company who really cares about their business. We're really proud of them and only a few companies hold all of these accreditations.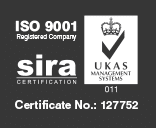 ISO 9001
Designed to create a more disciplined work environment, ISO 9001 is designed to let our workforce know exactly who does what, when and how, from processes to security, this saves time and cost by reducing mistakes, consequently helping to improve our customer service.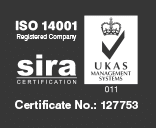 ISO 14001
Our certificate for ISO 14001 makes our company environmentally friendly, continually striving to reduce waste, from the recycling of waste paper to the use of low energy lighting throughout our facility, measuring our consumption and reduction at all times.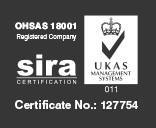 OHSAS 18001
This standard is designed to clarify an organisation's impact on health and safety issues, as well as help to reduce the risk of accidents and any breach in legal requirements.
Developed as a best practice standard by experts and target users, enables organisations to formalise and verify that risks are properly identified and managed. More importantly, it demonstrates to clients and stakeholders that their information is taken seriously. We have chosen UKAS , The United Kingdom Accreditation Service, who is the sole national accreditation body recognised by government to assess, against internationally agreed standards, organisations that provide certification, testing, inspection and calibration services.
Accreditation by UKAS demonstrates the competence, impartiality and performance capability of these evaluators. UKAS is a non-profit-distributing private company, limited by guarantee. UKAS is independent of Government but is appointed as the national accreditation body by Accreditation.
WANT US TO CALL YOU ABOUT DOCUMENT SCANNING?
We can explain further how we can save your business time, money and resource
Simply give us a few details and we will call you within 24 hours (excluding weekends)